18 February 2021

Metropolitan Porfirije of Zagreb and Ljubljana elected as the new Patriarch of Serbia

The Holy Assembly of Bishops of the Serbian Orthodox Church elected His Eminence Metropolitan Porfirije of Zagreb-Ljubljana, PhD, as the new Serbian Patriarch, in its convocation in Memorial Cathedral of Saint Sava in Belgrade on 18 February 2021.

Immediately after the election a thanksgiving service was officiated and Many Years was chanted to the Archbishop of Pec, Metropolitan of Belgrade-Karlovci and Serbian Patriarch Porfirije. Bells at Saint Sava Cathedral in the Vracar district of Belgrade rang a few minutes before 4:00 pm indicating that the 46th Patriarch of Serbia was elected.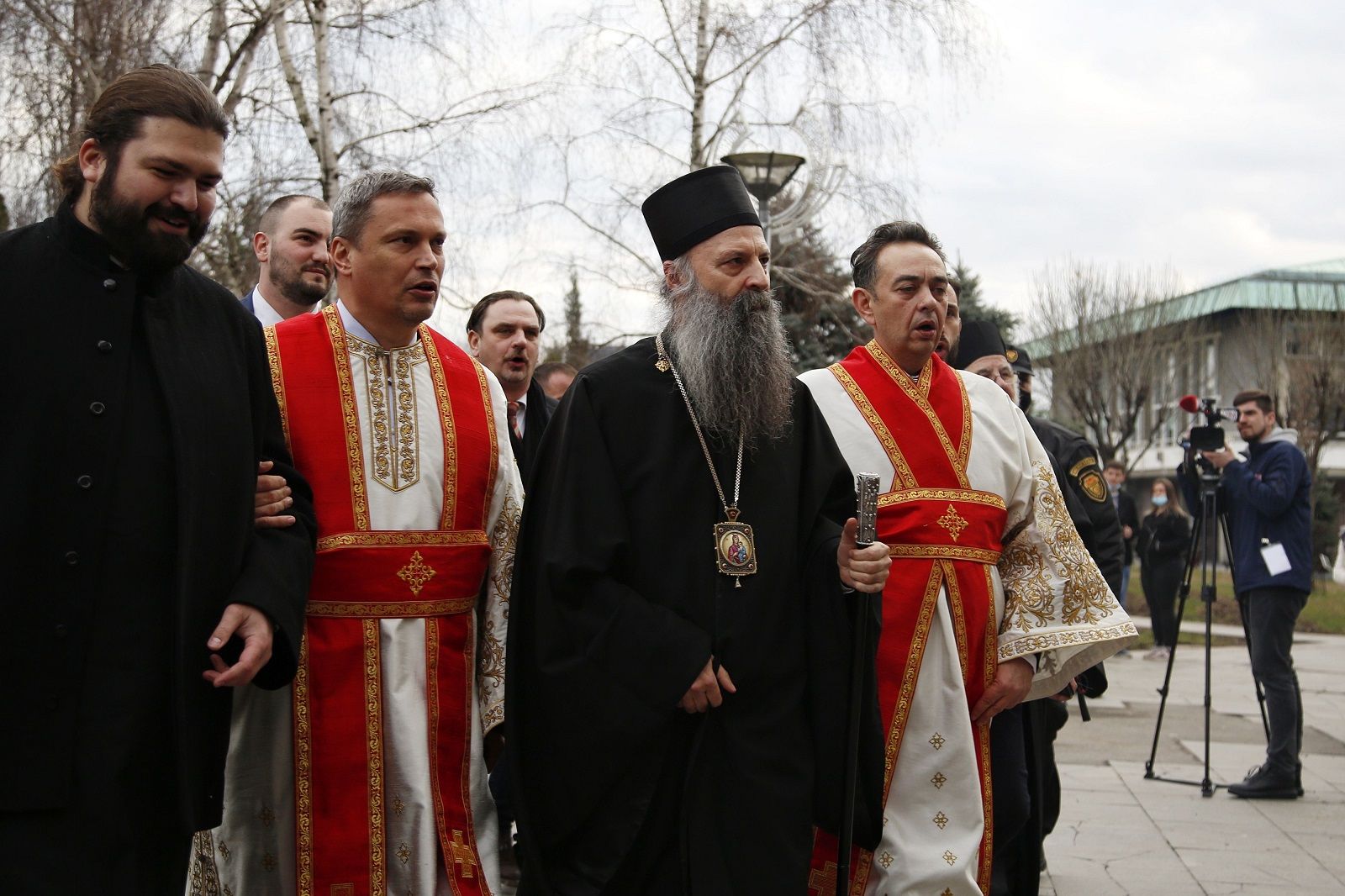 Newly-elected Archbishop of Pec, Metropolitan of Belgrade-Karlovci and Serbian Patriarch Porfirije (Peric) was born on 22 July 1961 in Becej, to father Radivoje and Mother Radojka. He was baptized as Prvoslav. He finished primary school in Curug, and the "Jovan Jovanovic Zmaj" Grammar School in Novi Sad. He was ordained a monk according to the rite of small schime by his spiritual father, then hieromonk Dr. Irinej (Bulovic), at Decani Monastery on Sunday of St. Thomas in 1985.

He graduated from the Faculty of Orthodox Theology in Belgrade in 1986, when the then Bishop of Raska-Prizren Diocese, future Serbian Patriarch Pavle of blessed memory, ordained him a hierodeacon at the monastery of Holy Trinity in Musutiste.

He attended postgraduate studies in Athens from 1986 until 1990. That year, upon the blessing of Bishop Dr. Irinej of Backa, he joined the monastery of Holy Archangels in Kovilj, where he was ordained as hieromonk and became its abbot.

Many young monks and novices came to the monastery following him. These were the years when the Kovilj Monastery became a spiritual center for many young people: intellectuals, artists, popular actors and rock musicians, especially from Novi Sad and Belgrade. Since then abbot Porfirije has particularly dealt with drug-addicted patients. In 2005, he formed for this purpose a therapeutic community called "The Land of the Living", which is recognized as the most successful drug-addiction therapy project and, under the leadership of Bishop Porfirije, it has more than a hundred residents in camps throughout Serbia today.

During the ordinary meeting of the Holy Assembly of Bishops of the Serbian Orthodox Church in Belgrade on 14 May 1999 he was elected as Bishop of Jegar, Vicar of the Diocese of Backa.

He defended his PhD thesis Possibility of knowability of God in St. Paul's understanding according to the interpretation of Saint John Chrysostom at the Faculty of Theology of the University of Athens in 2004.


He became a lecturer at the Faculty of Orthodox Theology - Department of Pastoral Psychology - succeeding famous psychiatrist, academician Dr. Vladeta Jerotic. His lectures have been attended not only by students of the Faculty of Orthodox Theology, but other Belgrade faculties as well.

Together with a group of experts: psychologists, doctors, criminologists, sociologists, Bishop Porfirije founded a civic association that deals with the resocialization of victims of destructive religious sects and cults.

Bishop Porfirije has not been just president of the Steering Board for a decade, but a real spiritus movens of the Humanitarian Fund "Privrednik", which has provided scholarships for a great number of gifted, but poor pupils and students, regardless of their nationality or religious affiliation.

In 2005, the National Assembly elected him as representative of all Churches and religious communities, to be a member of the Council of the Republic Broadcasting Agency, and in 2008 the RBA elected him its president. As President of the Council of the Republic Broadcasting Agency, Bishop Porfirije supported the long-term interests of society and citizens, unaffected by political influences.

Since then, church radio stations have been heard in the broadcasting spectrum of Serbia. He has made a key contribution to launching of a series of radio and television shows dealing with religious topics.

In 2010, The Holy Assembly of Bishops entrusted him to establish military chaplaincy in the Serbian Armed Forces. The fruits of his labour in that field include not only the suitable legal regulations, but also the selection of military chaplains, the organization and equipping of churches at barracks and performance of the first religious services.

His expert theological works Bishop Porfirije published in magazines both in Serbia and abroad. He participated in a large number of scientific conferences and symposia across the globe.

Bishop Porfirije, as one of the most prominent contemporary Serbian clergymen and intellectuals, has an extremely wide circle of friends, not only in the Homeland, and he fosters personal friendship and close cooperation with priests and representatives of other Churches and religious communities.

He speaks Greek, English, German and uses the Russian language, while his style of communication is always adapted to his interlocutors.

He was enthroned as the Metropolitan of Zagreb and Ljubljana on 13 July 2014 in the Cathedral Church of the Transfiguration of the Lord in Zagreb. The solemn Hierarchal Liturgy was served by Serbian Patriarch Irinej, accompanied by a large number of archbishops of the Serbian Church and other sister Churches, as well as priests and monks, and pious people.


Source: SPC/Serbian Orthodox Church