4 March 2021

Minister of Foreign Affairs Nikola Selakovic said that Serbia could expect pressures from both Brussels and Washington concerning the issue of Kosovo and Metohija, and that Belgrade should fight and defend its position and national and state interests with arguments.

"This is not a simple task. Were there any unpleasant moments at the meetings in Berlin? There certainly were, especially when our positions differ. But that is yet another reason to come to Berlin and to discuss this. And if need be to come here time and time again", Selakovic told Tanjug news agency, at the end of his visit to Germany, in response to the question whether there was an understanding for our position and whether he expected pressure from Berlin and Washington.

Selakovic added that it was much easier to represent Serbia today than seven, eight or 15 years ago, but that this did not mean that some things changed in the German view on the issue of Kosovo and Metohija and the relationship between Belgrade and Pristina.

"It is up to us to use the strength of arguments to try to present our position in a conversation with everyone we can and, if possible, strengthen it", Selakovic emphasized.

He added that this was precisely what President Aleksandar Vucic managed to do - to strengthen the position of Serbia, and that today, when visiting Berlin, one was not experiencing the inconvenience that no one wanted to hear you out.

"The German partners want to listen to us, to talk, and that is one of the results of the visit, that we will continue to talk. They have a great interest in Serbia. As for whether it will be easy for us - it most certainly will not", concluded Selakovic.

He added that it was an honour to represent Serbia in Berlin these days, despite the strict measures that limited meetings and contacts with colleagues from the German Foreign Ministry and the Bundestag.

Selakovic noted that Germany, as an engine of development and one of the most important EU countries, alongside France, was someone who supported the EU path of Serbia and maintained a strict but far approach to Serbia, in the sense of telling us what the problem was and what we should do together.

He reminded that Germany was our most important foreign trade partner and the country whose economy invested the most in the Serbian economy.

"I heard serious praise of the Serbian economy here", Selakovic said.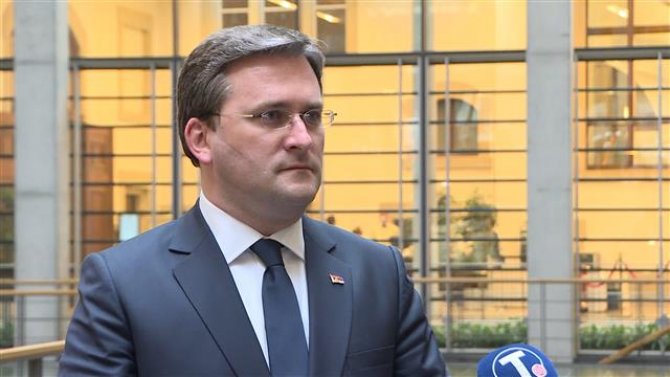 He noted that there was a lot of interest from German journalists about Serbia's cooperation with Russia and China, and stated that he used the opportunity to reiterate that Serbia, on the one hand, stood firmly on the European path and was committed to that course, but at the same time fostered friendships lasting for decades, and some for centuries.

"But in both Beijing and Moscow, we always say that we are a country on the EU path, which is preparing its legal and economic system, its society to become part of the EU and that we will continue to do so in the future as well", Selakovic concluded.



Wadephul: It is clear that Serbia should join the EU as soon as possible

Chairman of the ruling CDU/CSU working group and Member of the German Bundestag Johann Wadephul said today that Germany believed that Serbia should join the EU as soon as possible.

After the meeting with Serbian Foreign Minister Nikola Selakovic, Wadephul told Tanjug that he had a good conversation with a friend from Belgrade and that it was clear that Serbia should join the EU as soon as possible.

"We know that President Aleksandar Vucic and the Serbia Government are working hard to meet the requirements. Germany is ready to provide all the help to the Serbian Government", he emphasized.

"We know that together we will be richer when Serbia becomes a member of the EU. It will be good for Europe, but also for the citizens of Serbia", Wadephul stated.

The ruling party's MP expressed hope that this conversation made an additional contribution to Serbia's clear path towards the EU.

By meeting with Wadephul, Minister Selakovic brought his two-day visit to Berlin to an end.

Earlier today, he met with his German counterpart Heiko Maas, advisor to German Chancellor Angela Merkel Jan Hecker, and other important representatives from the German political scene.

He started his visit yesterday with a speech at the German Bundestag EU Affairs Committee, as well as meetings with members of the Friendship Group with Southeast Europe, and with German businessmen.


Source: Tanjug