7 March 2021

President of the Republic of Serbia Aleksandar Vučić attended today the ceremonial opening of the factory Continental Automotive Serbia. President Vučić said that the opening of one of the most powerful companies in Novi Sad is a great day showing how much Novi Sad, Vojvodina and the whole of Serbia have progressed in the last three years.

"If you dream and set goals high, if you work hard and diligently, then the dreams come true. Today is a great day for Serbia! I am infinitely happy and proud of the country in which we live, and of the people who work in the Continent," said President Vučić.

He thanked everyone who participated in the project, representatives of Continental Automotive Serbia for the decision to invest in Novi Sad and Serbia, but also domestic engineers, who were capable to present our knowledge in the best light as well as our hard work.



President Vučić pointed out that the Development and Research Centre in Novi Sad is the third centre of this company in terms of the number of people, right after Germany and Romania, and already ahead of Austria and France.

"I believe that 500 people will work in this factory at the beginning and that we will open a greenfield investment in 2022," said the President.

President Vučić reminded that many factories were opened in the previous period throughout Vojvodina, in almost all districts.

"These German factories always bring great prosperity, higher salaries and a secure job, but also greater seriousness and responsibility," said President Vučić, adding that Serbia would not be as successful in the economy without Germany as it is now and among the fastest-growing countries in Europe.

"I believe in made in Serbia, as we put our trust in made in Germany," said President Vučić.

He pointed out that he was very grateful to Chancellor Angela Merkel for her support to Serbia in the previous period, adding that she always did only good for Serbia and helped even in the most difficult moments.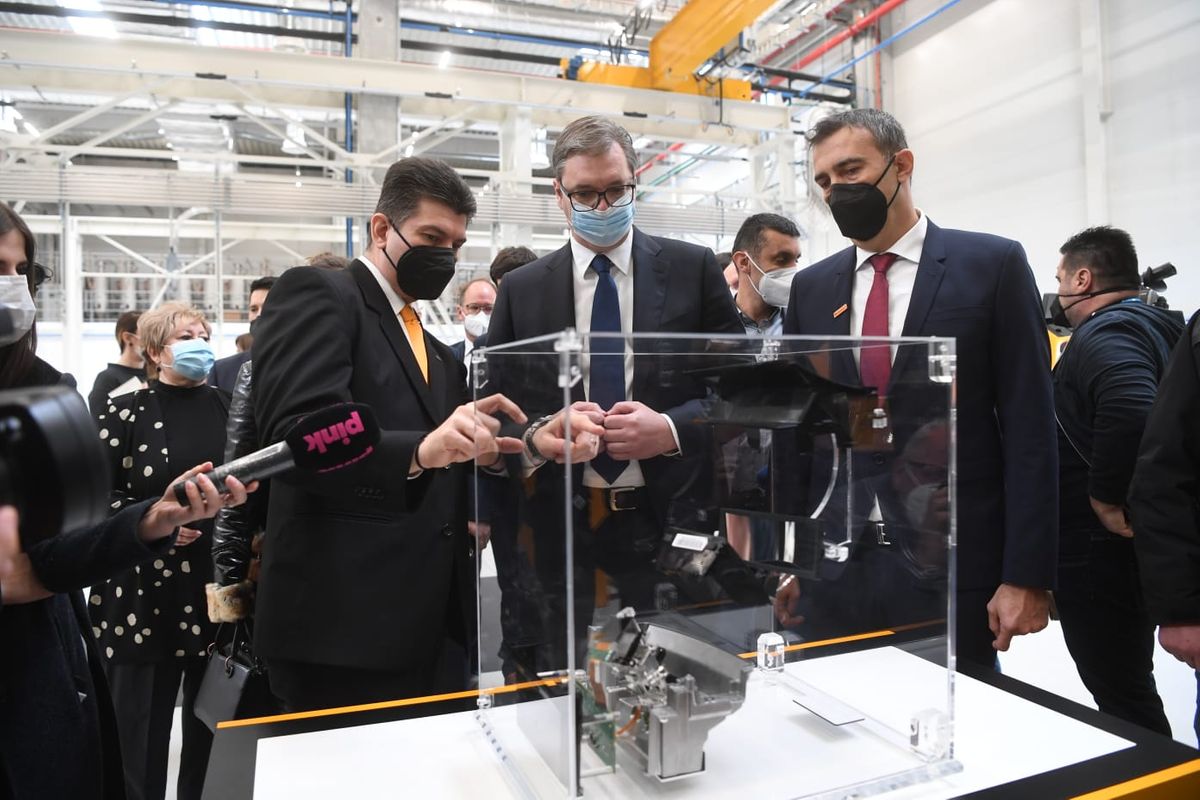 "We will never forget how much she helped us in bringing in German investors and in solving some regional problems, thus opening the way for sincere friendship between Germany and Serbia," the President said.

The Continental Automotive Serbia factory in Novi Sad will manufacture advanced electronic vehicle management systems, and the value of the investment is 140 million euros.

The opening of the factory was also attended by Prime Minister Ana Brnabić, Minister of Economy Anđelka Atanasković and other representatives of the state and Novi Sad, as well as the German company management.

Photo: Dimitrije Gol